Ingredients
4 tsp vegetable oil
1 red onion, roughly chopped
1 pack mixed peppers chopped
3 or 4 decent sized carrots cut into small chunks
3 cloves garlic  finely chopped
Alternatively you can add; 1 butternut squash or 1  large sweet potato or 2 decent size parsnips
1tbsp Cajun spice mix
2 x 410g mixed pulses in water, rinsed and drained ie kidney beans and chickpeas
1 or 2 tins baked beans
2 x 400g can chopped tomatoes
150ml vegetable stock
1 tbsp dark chocolate, chopped
soured cream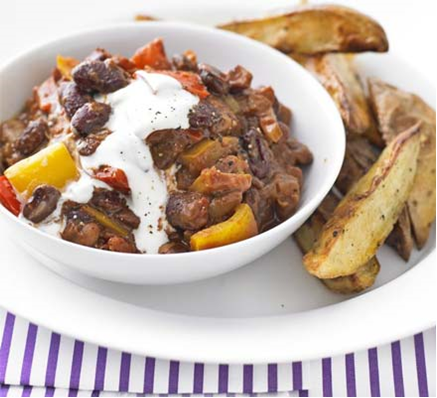 ---
Method
Fry onions and carrots for 3 mins, then if using other hard vegetables add this to the pan and cook for a further 4—5 mins add the  peppers and garlic in the pan for 5mins.
Add Cajun spice, pulses, tomatoes and stock. Cover and simmer for 15-20 mins.
Remove from heat and stir in chocolate until melted.
Serve topped with sour cream and serve with rice, potato wedges or pita bread
---
Nutritional Information